During business life, managers and owners are required to make decisions, some of which will determine the future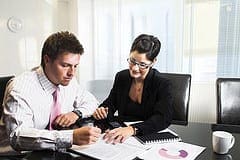 of the business and sometimes even the very existence.
We are here for you, to help you plan your business activities and help in decision making
Asakim Plus' Business Consulting services include:
Business and strategic planning
Marketing planning
Business mentoring
Decision making
Negotiations
Capital raising and investments
Business Training
Employer-Employee Relations
Projects and Start-ups Entrepreneurship
Financial Consulting
Financial management is essentially required for any business.
We are here for you to help you plan your financial activities and help the financial decision-making processes using unique financial tools.
Asakim Plus' Financial Consulting services include:
Financial Planning
Financial management and cash flow
Cost analysis
Tax planning
Planning of all aspects of income tax, value added tax (VAT, VAT) social security both in terms of business as well as business owners
Accounting and Bookkeeping
Personal Financial Planning
Building retirement pension plans for business owners
For Business and Financial Consulting call us now at +972-9-7463110
or fill the following form: